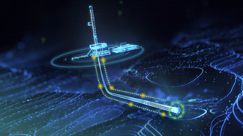 FUNDAMENTALS OF GEOLOGICAL WELL PLACEMENT
Discipline: Drilling/Petrophysics
Level: Basic
Duration: 5 days (3h a day)
Instructor(s): Hazboun, Nidal Khalil
Purpose
The purpose of this course will be to introduce the concept of geosteering which consists in placing a horizontal or high angle well geologically and successfully. It will provide processes tools and techniques that can be used to perform the proposed task. This includes integrating geological and petrophysical data in real-time during drilling for the decision process. The main three methods to geologically position a well will be discussed alongside the technologies involved. This multidisciplinary task comprising: directional drilling, drilling dynamics, geology, wire line petrophysical measurements, and formation evaluation while drilling (LWD) will be reviewed.
The objective of high angle and horizontal wells is to largely maximize reservoir contact impacting positively on the well productivity. This task, in a practical sense, requires a real-time collaboration team of geologists (with formation evaluation understanding), drillers (who understands the well trajectory is only a draft to be modified within the limits he must set), and petrophysicists (the formation evaluation specialists acting during the drilling process in order to optimize well contact with the target formation).
Designed
Beginner geoscientist, geologist, geophysicist, petrophysics, and drilling engineers engaged or planning to make decisions on the benefits of horizontal or high angle wells placed geologically.
You will learn
How to:
Identify potential benefits from horizontal drilling in your location

Structural
Geological / Petrophysical
Hydrocarbon
Drilling/Logging equipment
Transmission
Cost x Benefit

Be aware of the different drilling tools and the correct selection for the project
Have an awareness on the directional drilling process
Understand how LWD tools work and their differences with original WL tools
Have an awareness on selecting LWD fit for porous sets based on project objectives
Understand the components for a real time well placement project
The steps to generate a correlation model for teal time update
Steer the well based on images
Evaluate the conditions for the use of remote boundary detection
Content
Geology and geological well placement introduction
The three basic methods of geological well placement used in the process
Essential conditions of reservoir geology
Structural setup conditions
Directional drilling basics
Measurement While Drilling defining wellbore location and drilling data
Logging While Drilling essential tools
Basic Formation Evaluation with LWD
Practical examples
Effects of high angle on LWD data
LWD Image acquisition fundamentals and applications
Image derived formation dips as an input for well placement
Model-compare-update method
Incorporation of LWD images
Remote boundary detection
Software applications:
To be defined depending on requirement for dedicated well placement software.
Text and consulting books:
"Fundamentals of Well Placement ", Roger Griffth 2009
"Log Interpretation Principles / Applications", Schlumberger 1989
"Log Interpretation Charts", Schlumberger, 1998
"Fundamentals of Well Logs Interpretation 1,2", O. Serra Elsevier, Amsterdam 1984.
"Logging While Drilling", Schlumberger, 1993
Discipline: Drilling/Petrophysics
Level: Basic
Duration: 5 days (3h a day)
Instructor(s): Hazboun, Nidal Khalil
Sign up