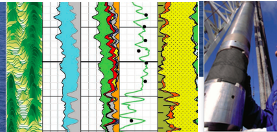 FUNDAMENTALS OF LWD PETROPHYSICS
General:
Discipline: Drilling/Petrophysics
Level: Basic
Duration: 4 days (3h a day)
Instructor: Nidal Hazboun
Purpose
This course is designed to complement your understanding with details of the similarities and differences between LWD (Logging While Drilling) with the traditional WL (wire line) technologies. The principles will be reviewed together with the impact of having them mounted in a drilling collar.  Examples will be presented for exercises and class discussions. In this class we allow the students to bring their own set of logs in case they already apply LWD.
This course is a complement of "Fundamentals of Petrophysics" but can be taken separately if the student has a WL background
Designed
Beginner's geoscientists, geologist, geophysics, petrophysics and engineers using petrophysical data and other technical staff at all experience levels wanting a fundamental background in the petrophysical discipline.
You will learn
Data transmission to surface principle and limitations
How LWD can achieve similar WL readings

GR
Resistivity
Density Neutron – with and without radioactive sources
Image – geological interpretation
Sonic
Seismic
Formation Pressure Tester
Magnetic Resonance
Transmission
Cost x Benefit

Understand how LWD tools work and their differences with original WL tools
Have an awareness on selecting LWD fit for porous sets based on project objectives
Understand the components for a real time well placement project
Content
When to apply LWD tools and its advantages
GR – Resistivity

GR principles and limitations
Resistivity principle and frequency domain
Attenuation and Phase Shift measurements
Precision/Accuracy/Environmental effects

LWD sources of images differences and applicability
Sonic and Seismic principles and applications
Formation Pressure Measurements and sampling tool
Magnetic Resonance
Example of LWD completeness set in real time
Software applications:
Text and consulting books:
"Fundamentals of Well Placement ", Roger Griffth 2009
"Log Interpretation Principles / Applications", Schlumberger 1989
"Log Interpretation Charts", Schlumberger, 1998
"Fundamentals of Well Logs Interpretation 1,2", O. Serra Elsevier, Amsterdam 1984.
"Logging While Drilling", Schlumberger, 1993
General:
Discipline: Drilling/Petrophysics
Level: Basic
Duration: 4 days (3h a day)
Instructor: Nidal Hazboun
Sign up