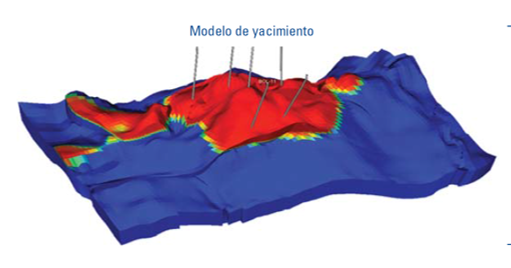 FUNDAMENTALS OF RESERVOIR ENGINEERING
Discipline: Reservoir engineering/Production engineering
Level: Basic/Intermediate
Duration: 5 days
Instructor(s): Iván Yemez/ Horacio Stigliano
Purpose
This course covers all aspects related to Reservoir Engineering during all reservoir life cycle, starting from the discovery and up to enhanced oil recovery. The course is designed to provide a good understanding of reservoir engineering processes and techniques, particularly their interface with geoscience activities, the required data, and the limitations on the engineers' analysis and interpretations. For this scope, the course will focus the following topics:
Fluid and rock properties and the fundamental concepts of fluid flow in porous media.
Reservoir Production Mechanisms that permit to produce reservoir fluids and the Recovery Factor associated with those mechanisms
Material Balance Technique. Material Balance Equation description and its application for field performance prediction and its associated limitations
Waterflooding basic concepts and Displacement Theory. Concepts will be illustrated by several daily exercises and examples.
Designed
This course is addressed to geologist, Petrophysicist, reservoir and production engineers with basic knowledges in geosciences.
You will learn
How to:
Know and understand the role of a reservoir engineer. The rock properties and the user of reservoir engineer in a development project.
Understand the reservoir pressure and temperature regimes and the techniques. To be able to calculate pressure and temperature gradients, understand the concepts of capillary pressure, in different reservoir fluids. Understand the principles of wireline formation testing, and their use to determine fluid contacts and pressure regimes.
Understand the phase behaviour of reservoir fluids. To be able to classify reservoir fluids in a phase diagram. Understand volumes relationship between surface and reservoir. Understand laboratory experiments to obtain PVT parameters, and its repot. Know how to use fluid correlations and be able to calculate a PVT table for a reservoir engineering model.
Understand the reservoir production mechanism. To be able to identify production mechanism and their recovery factor ranges. Understand key performance for oil and gas.
Knows the material balance technique. Understand the theory, know how to apply it for the OOIP and aquifer determination. Know how to us it for performance prediction and its limitations.
Understand waterflooding. Understand the relative permeability, mobility ratio and fractional flow concepts. Know the displacement theory of Buckley Leverett and its practical solution, and the calculation of areal and vertical sweep efficiency.
Understand how reservoir heterogeneity affects water flooding recovery and be able to design one.
Content
1. Introduction
1.1. Development Project
1.1.1. Petroleum field life phases and Reservoir Production Optimization
1.1.2. Development Project Types
1.1.3. Reservoir Management
1.1.4. Petroleum Field Development Project Objectives
1.2. The Role of Reservoir Engineering
1.2.1. Determination of Hydrocarbon In Place
1.2.1.1. Fluids in Place
1.2.1.2. Contacts
1.2.2. Reserves Estimation and Production Profiles
1.2.2.1. Recovery Factor
1.2.2.2. Production Profiles
1.3. Optimal Appraisal, Development Planning and Reservoir Management
1.3.1. Data Collection
1.3.2. Assumptions
1.3.3. Calculations
1.3.4. Development Decisions
2. Reservoir Rock Properties 2.1. Porosity
2.2. Saturations
2.3. Capillary Pressure
2.4. Wettability
2.5. Permeability
2.5.1. Absolute Permeability
2.5.2. Effective and Relative Permeabilities
3. Reservoir Pressure and Temperature
3.1. Reservoir Fluid Pressure and Temperatures Regime 3.2. Techniques for Pressure Measurements
3.2.1. Techniques
3.2.2. Wireline Formation Testing 4. Phase Behavior of Reservoir Fluids
4.1. Pure Substances
4.2. Multicomponent Hydrocarbon Mixtures
4.3. Pressure-Temperature Phase Diagram: Classification of Reservoir
4.4. Oil PVT Analysis
4.5. Definition of Basic Parameters (Bo, Rs, Bg) and their pressure evolution 4.6. Oil Viscosity
4.7. Black Oil Correlations
4.8. Sampling Methods
4.8.1. Subsurface and Surface measurement
4.8.2. Recombination of Samples
4.9. Laboratory Experiments
4.9.1. Flash Expansion
4.9.2. Differential Liberation
4.9.3. Separator Tests
4.10. Gas and Gas-Condensate
4.10.1. Ideal Gas
4.10.2. Equation of State
4.10.3. Definition of the Basic Parameters (Z, Eg, CGR) and their pressure evolution
4.10.4. Gas Viscosity
4.10.5. Correlations
4.10.6. Sampling Methods
4.10.6.1. Laboratory Experiments
4.10.6.2. Retrograde Correlations
4.10.7. Vapor Liquid Equilibrium Calculations: Equations of State
4.11. Reservoir Waters: Properties 5. Phase Behavior of Reservoir Fluids
5.1. Reservoir Drive and Production Mechanisms 5.2. Primary, Secondary and Enhanced Oil Recovery 5.3. Recovery Factors
5.4. Reserves Determination and Classification
6. Material Balance
6.1. General Form of the Material Balance
6.2. The Material Balance expressed as a Linear Equation 6.3. Material Balance to Oil Fields
6.3.1. Depletion above Bubble Point
6.3.2. Solution Gas Drive
6.3.3. Gas Cap Drive
6.3.4. Compaction Drive
6.3.5. Natural Water Drive
6.4. Water Influx Calculations
6.4.1. Hurst and Van Everdingen (Unsteady State)
6.4.2. Fetkovitch
6.4.3. Carter-Tracy
6.5. Material Balance to Gas Fields
6.5.1. Volumetric Depletion
6.5.2. Natural Water Drive
6.6. Material Balance Limitations
7. Waterflooding
7.1. Rock Relative Permeabilities
7.2. Mobility Ratio
7.3. Fractional Flow
7.4. Buckley-Leverett One-Dimensional Displacement Theory 7.5. Oil Recovery Calculations: Welge Technique
7.6. Vertical Sweep Efficiency (Stratified Reservoirs)
7.6.1. Permeability Distribution
7.6.2. Generation of Pseudo-Relative Permeabilities
7.6.3. Vertical Equilibrium Flooding Condition
7.6.4. Total Lack of Vertical Equilibrium
7.6.4.1. Stiles Method
7.6.4.2. Dykstra-Parson Method
7.7. Areal Seep Efficiency 7.7.1. Heterogeneities
7.7.2. Injection Patterns
7.8. Waterflooding Design
Fundamentals of Reservoir Engineering
General:
Discipline: Reservoir engineering/Production engineering
Level: Basic/Intermediate
Duration: 5 days
Instructor(s): Iván Yemez/ Horacio Stigliano
Sign up