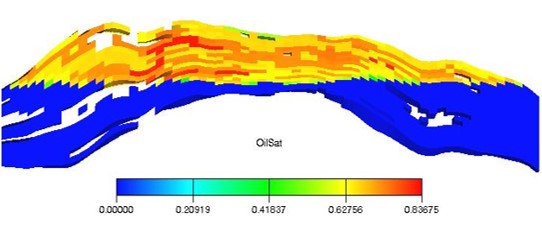 FUNDAMENTALS OF RESERVOIR MODELLING
Discipline: Reservoir engineering
Level: Basic/Intermediate
Duration: 5 days
Instructor(s): Iván Yemez/ Horacio Stigliano
Purpose
This course will introduce participants to the theory and practice of reservoir simulation. Participants will learn about the fundamentals of reservoir simulation, the development of simulation programs, and how to select the proper model for a simulation study. This course will also cover data preparation, grid design, calibration of the reservoir model, forecasting of future performance, and interpretation of simulation results.
Participants will also be introduced to several advanced topics including relative permeability and capillary pressure, understanding the role of simulation in reservoir management, the mechanics of reservoir simulation limitations, and the structural aspects of the models. Upscaling and simulation techniques will also be discussed. During this course, participants will be expected to solve problems in a workshop format using related software applications
Designed
This course is addressed to reservoir engineers with basic or intermediate knowledges in reservoir numerical model.
You will learn
How to:
Learn about the purpose and benefits of a reservoir numeric simulation, their types and its value and relationship in E&P
Know and learn about the fluid flow equation, porous media, mass conservation and type of simulation model equations
Understand and know about the basics in numerical schemes, stability and accuracy for the fluid flow equation
Know the key structure of the simulator input file, the vertical and area sweep efficiency under water-flooding and under-saturated oil reservoir.
Learn how to design a full 3D simulation model from the data gathering, reservoir characterization model, upscaling issues, types of fluids and properties, aquifer modelling aspects and well description and basic simulation prediction forecast
Learn about the principles and requirements for history matching, reservoir and field production forecast
Content
Introduction to reservoir simulation
Propose and benefits of numerical reservoir simulation
Relationship with other E&P matters
Main steps in the construction of reservoir simulation model
Type of reservoir simulation modelsThe fluid flow equation in porous media.
Continuity equation (Mass conservation).
Darcy's law equation
Compositional and black oil model's equations
Numerical discretization of the fluid flow equation
Notions of numerical finite differences
Types of numerical schemes (IMPES, Simultaneous, Fully implicit, Streamlines)
Numerical stability and accuracy.
General structure of a simulator input data file
Basic vertical cross-section model to evaluate vertical sweep efficiency under water-flooding for an under-saturate oil reservoir.
Basic areal model to evaluate areal sweep efficiency under water-flooding for an under-saturate oil reservoir with different oil viscosity.
3D-Full field simulation model for a real reservoir
Data gathering
Understand the geological model the reservoir model characterization
3D geo-model Upgrading and Upscaling the geological model to be used forsimulation model.
Fluids and rock properties
Aquifer modelling
Well description
History matching
Stablish the production forecast strategy (number of run and cases to be evaluated).Define the case be used as reference for the rest of the cases.
Production forecast
Fundamentals of Reservoir Modelling
General:
Discipline: Reservoir engineering
Level: Basic/Intermediate
Duration: 5 days
Instructor(s): Iván Yemez/ Horacio Stigliano
Sign up