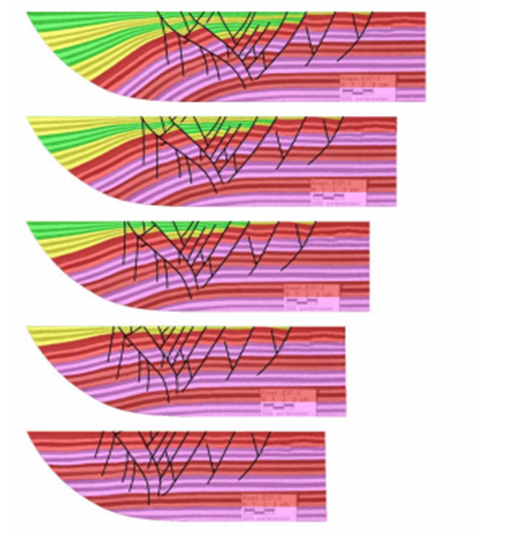 STRUCTURAL GEOLOGY
Discipline: Structural Geology
Level: Intermediate
Duration: 5 days (40 Hours)
Instructor: Dr. Carlos Giraldo Ceballos
Purpose
This course will introduce the participant to the structural deformations and tectonic processes of sedimentary basins.
Sedimentary basins are formed by tectonic subsidence of the earth's crust over millions of years and a good geological interpretation is the basis of the documentation process for any type of basin regarding fossil fuels exploration, C02 storage and Geologic hazards.
The subject matter is shown through 5 modules and concepts can be applied in surface and subsurface Geology evaluations, as well as in the assessment of natural Risks (Seismicity, Volcanism and offshore geo-hazards).
This course offers an updated view of structural deformations that would serve as potential tectonic plays in a specific exploration area of interest.
Designed
Designed for:
Geologists, Geophysicists, Petroleum Engineers, Geochemists, Mining Engineers, Geosciences Technicians, or anyone interested in a solid understanding of structural deformations and tectonics processes of sedimentary basins.
You will learn
You Will Learn:
How to:
Differentiate "rifts" from "drifts" structural styles along conjugate margins.
Calculate Beta factor along extended or hyperextended margins
Interpret "Break-up" unconformity and its significance.
Recognize a fore-land basin and main structural styles.
Interpret deformations associated to Salt Tectonics and Shale Tectonics
Interpret gravity-driven deformations.
Recognize pre-kinematic from syn-kinematic and post- kinematic sedimentary wedges.
Content
Contenido del curso:
Course Content:

Basics of Plate Tectonics and Sedimentary Basins.
Convergent Margins tectonic styles.
Divergent Margins tectonic styles.
Salt and Shale Tectonics.
Gravity-driven deformations.
Exercises will wrap-up acquired concepts (outcrops and seismic sections).

Software applications:

PETREL and Dynel 2D (Schlumberger), Decision Space Landmark (Halliburton), 2D Move (Midland Valley).

Consulting references:

"Basement-involved reactivation in foreland fold-and-thrust belts", Cambridge Univ. Press, 2016.
"Role of the shale tectonics on the evolution of the Eastern Venezuelan Cenozoic

thrust and fold belt", Marine & Petroleum Geology, 2011.

"Submarine fans: A critical retrospective (1950-2015)", Science Direct, 2016.
"Rifted Margins: State of the Art and Future Challenges", Frontiers in Earth Science, 2019.
"Major controlling factors on hydrocarbon generation and leakage in South Atlantic conjugate margins", Elsevier, 2013.
"Gravity-driven deformation of a youthful saline giant: the interplay between gliding and spreading in the Messinian basins of the Eastern Mediterranean", Petroleum Geoscience, 2016.
Discipline: Structural Geology
Level: Intermediate
Duration: 5 days (40 Hours)
Instructor: Dr. Carlos Giraldo Ceballos
Sign up